2022 Augusta National Women's Amateur champion and 2022 Open Amateur champion claim titles at the world's most prestigious junior event.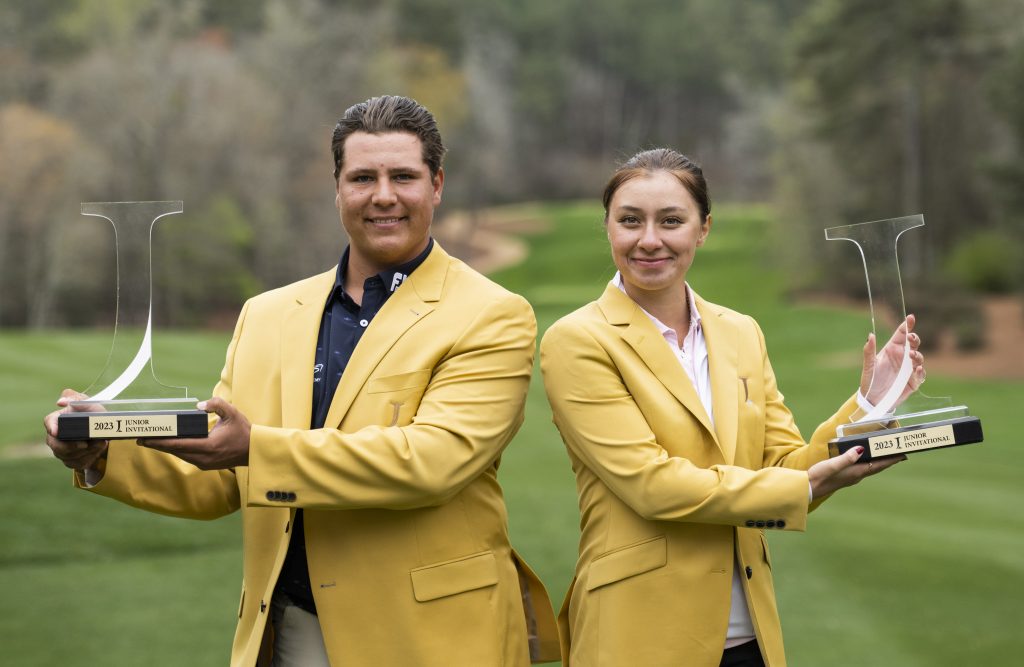 Click here for photos of the 2023 Junior Invitational. Please credit Matthew Harris/Junior Invitational.
GRANITEVILLE, S.C. (March 18, 2023) – Anna Davis and Aldrich Potgieter led wire-to-wire to claim the 2023 Junior Invitational titles on Saturday at the Sage Valley Golf Club. Davis, from Spring Valley, Calif., and Potgieter, from Mossel Bay, South Africa, emerged triumphant in the best field in junior golf.
Davis, who finished the tournament with a final total of 209 (70-69-70), defeated runner-up Nika Ito (72-72-67=211) of Japan by two shots after carding a final-round 70 on Saturday. Ito, who fired a final-round 67, which tied for the low round of the day, challenged Davis until the very end, holing out for eagle on the par-4 17th to move Davis' lead to one with two holes to play. However, Davis chipped in for birdie on the 17th green to push her lead back to the winning margin of two shots heading to the 18th hole.
Kiara Romero finished third with a three-round score of 216 (76-73-67), while Bailey Shoemaker (74-73-70), the 2022 Junior Invitational runner-up, and Andrea Revuelta (72-74-71) ended the tournament in a tie for fifth with a score of 217.
Davis becomes the first wire-to-wire winner for the Girls tournament, which began in 2022.
"I went into the week wanting to win, thinking I was going to win," said Davis after the final round. "I've always had high expectations for myself."
Potgieter finished the event with a score of 203 (65-70-68), 10 strokes better than second-place duo Aaron Pounds (73-69-71=213) and Byungho Lee (72-69-72=213). Potgieter's margin of victory is the highest in the tournament's history, surpassing Nick Reach's eight-shot win over Patrick Rodgers in the inaugural year of the event in 2011, and is only the third outright wire-to-wire winner, joining Reach and Austin Eckroat in 2016.
"Yeah, it was awesome week and I really enjoyed it," Potgieter said of his Junior Invitational debut. "Today was a good a round. I struggled for a stretch, the par-five fourth I missed a five-footer or something for birdie and then missed one on five. So that was kind of a disappointing break, but I knew that the back nine had a lot of opportunities and still having to play three par fives, I was still confident enough to put a good score on the board."
Two awards were also awarded to players for their accomplishments outside of the course. Aaron Pounds was awarded the Paul S. Simon Boys Character Award and Paula Martin was given the Dr. Joe Bowden Girls Character Award.
Recognized by Golfweek as the No. 1 junior event in golf, the Junior Invitational welcomes 60 of the very best junior golfers from around the world to Sage Valley Golf Club in Graniteville, S.C., each year. Founded in 2011, it has become among the most desired invitations in competitive junior golf. For more information, visit www.juniorinvitational.com.
Top Five Girls Final Results
1. Anna Davis – 70-69-70=209 (-7); 2. Nika Ito – 72-72-67=211 (-5); 3. Kiara Romero – 76-73-67=216; T4. Bailey Shoemaker – 74-73-70=217 (+1); T4. Andrea Revuelta – 72-74-71=217 (+1)
Top Five Boys Results
1. Aldrich Potgieter – 65-70-68=203; T2. Aaron Pounds – 73-69-71=213 (-3); T2. Byungho Lee – 72-69-72=213; 4. Eric Lee – 71-72-72=215 (-1); 5. Preston Stout – 71-75-70=216